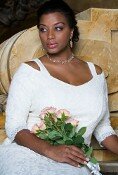 Hearing wedding bells? If you are planning your wedding, the last thing you need is added expenses. If you are a plus size woman who wants to look fabulous on her wedding day, and dressing up the bridesmaids in gorgeous dresses, without breaking the bank, I suggest you take a look at the bridal collection at IGIGI.
IGIGI carry a select number of unique items within their bridal wear collection, which are created to flatter the curvaceous figure, helping you look like a star on your big day. So you can look great, make a lasting impression (on the guests, as well as the groom

) whilst keeping within budget. Take a look at some of my favorite dresses:

Lace Wedding Gown – If I were getting married tomorrow, this is the dress I would choose. It is a gorgeous lace dress, very romantic and a dream at only $229.
Chloe Lace Gown in Ivory – Another extremely elegant piece, the contrasting lining featured in this dress create a wonderful feeling of sophistication for a feminine look. Only $219.
Exquisite Evening Gown in White/White – This Grecian inspired iridescent gown and will without a doubt make you a start on your special day. Only $189!
Don't fret about your bridesmaids, as IGIGI has got them covered as well! Just visit the bridal collection at IGIGI to take a look at the gorgeous dresses available for your wedding party.
If you're in need of a little inspiration, rememeber that this summer the trend is mixing up the styles for your bridemaids, using the same dress in different colors. Let's say you choose the Exquisite Evening Gown in White/White for yourself. Why not get the Exquisite Evening Gown in Blue/Sky Blue for your bridesmaids, this will create a sharp contrast that will look bold and very stylish.