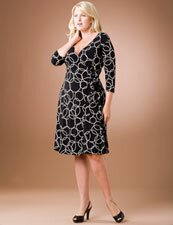 IGIGI new Spring collection is just around the corner. From what I've heard, this new collection is bound to be IGIGI's hottest, therefore ladies we have something to look forward to, and I am sure IGIGI will not let us down!
This weekend we've been given a sneak peek into the new Spring collection, which gives us a small taste of the good things to come. IGIGI has launched a limited edition Spring dress: the Circle Print Wrap Dress. In this limited edition print, this dress screams out class and chic.
Fun meets funky in this geometric take on the classic wrap dress, which can be dressed up with a black coat, pumps, accessories and a small clutch bag. It can also be used in a more casual occasion if paired up with a fitted denim jacket, wedge shoes and a tote bag for instance. What a great piece and quite a steal for only $89.00!
Seeing the great dress, I can't wait to see what IGIGI have to offer in their new Spring collection!