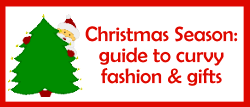 The final post, brought to us by IGIGI, give us tips on two different ways we can apply our make up when attending a party this holiday season. One way is to focus the attention on the eyes, whereas the other method focuses the attention of the make-up on the lips.
If you've missed the post from this series here is a quick recap: the first post in this 3 post series focus on the hottest trend for plus sizes dresses this Christmas; whilst the second post detailed tips and tricks on two different methods to fix up your hair, to make a lasting impression during a party.
Make-up – Hollywood Retro Glam
Remember that you only want to play up the eyes or the lips, but not both. Nobody wants the Tammy Fay Glam look.
Playing up the Eyes: (think Jessica Alba)
Curl your lashes to their maximum potential, and then glue a strip of falsies or even a few single falsies to your upper lash line. While they may not be for everyone, fasle eyelashes are great for special occasions. They are fairly easy to use (especially with a little practice), and can greatly emphasize the eyes. They can range from mild to wild. Keep in mind that false lashes don't have to be dramatic; they can be used to fill out a regular lashes. The difference simply having a fuller lash can make is strong but subtle.
When everything has dried, accent your upper last in like with a black liquid liner, making sure to cover the base of the false lashes.
To create the retro effect, slightly wing out the liner in an upward motion when you hit the outer edge of your eyes. Not to much on this or you'll look more like Cleopatra chic than Hollywood glamour.
Next sweep a sheer, white-shimmer eye shadow across your entire lid, following by a soft taupe color along the crease.
The finishing touch – apply black mascara to your top and bottom lashes for extra oomph.
Nude cheeks and lips will perfect your vintage-glam look.
Playing up the Lips: (think Michelle Williams)
With this look keep eyes light, but defined. Brush a shimmering white shadow over your entire lid area and then line your upper lashes with a dark brown pencil.
Finish your eyes with a generous application of black mascara to only your top lashes.
Sweep a peach-hued blush (a shade that works with your skin tone) across the appled of your cheeks to warm up your complexion.
To set the stage for your fabulous red pout, start with defining your lips with a sharp pencil lip liner and then fill them in with the pencil as well. Then top it off with a bold red shade. The liner helps your color stay in place and when it starts to fade, it will fade evenly. Try a few shades in the department store first to find out what goes right with your skin tone.
Eye-turning Tip:
The key to good mascara application is to go as close to the root of the lash as possible. A common mistake is to apply a lot at the ends of the lashes while ignoring the roots. This leads to the last being lighter near the eye, which looks unbalanced and does not emphasize the eyes itself, which is the goal.
As always, don't wait until the night of your party to try these ideas, play around a couple of days before. You don't want to stress out the night of the party because you don't have enough hair pins or lash glue.