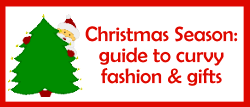 This is the second post, in a series of three plus size holiday party tips brought to us by IGIGI. Whereas in the first post, IGIGI guided us to what the hottest trend is, as regards to plus size dresses… this time round IGIGI bring to us some hair-do tips and tricks.
Hollywood Red Carpet Hair
Down Do – Sexy Tousled Hollywood Curls (think Selma Hayek)
Apply mousse to wet hair and blow-dry with a round, mixed-bristle brush.
Set hair in large hot rollers, smoothing each piece of hair before rolling it.
Next, gently remove the rollers and lightly spray the curls with hairspray and let the curls cool before doing anything else.
Once your curls are cool, part your hair to one side (whichever is most flattering to your face) and run a flat, mixed-bristle brush down the length of your hair. Not to much brushing, once or twice should suffice.
Last but not least – apply a finishing cream for added shine.
Up Do – The Classic Low Bun (think Reese Witherspoon)
For a polished, low turn, apply mousse to damp hair and blow-dry with a round, mixed-bristle brush.
Work in a styling gel from the mid-length of your hair down the ends; this will make your tresses easier to manage.
Separate the hair along the crown of your forehead from the rest of your locks, and pin it loosely out of the way.
Pull back the bottom half of your hair into a low ponytail, and secure it with a clear, snag-free elastic at the nape of your neck.
Twist the ponytail and wrap it around the base, securing it with bobby pins.
Take the hair from the top of your head and then tease the roots in small sections to create volume. Then wrap and pin the ends around the base of the bun.
Tame any flyaways with a small amount of finishing cream, apply hairspray for an extra, all-over hold and voila! A chic chignon.
Hair Flying Tip:
Getting off work late and running to a party with no time in between? Adding some barrettes, pins or other fun hair adornments is great for livening up the locks!