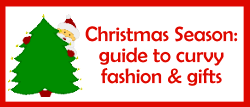 It's that time of the year again… time for holiday and cocktail parties galore. Which brings on the what to wear panic, which brings on the what do I do with my hair panic, to the oh my gosh how do I do my make-up panic. Don't worry, IGIGI have got you covered with a few tips and tricks to help!
The Plus Size Clothing Scoop will be brining you IGIGI's tips to looks great during the Holiday season in a series of 3 posts. The first one will focus on what to wear, and the last two will give you make-up and hair do tips and intstruction, to make sure you look curvalicious! So let's hit it off…
The Party Trend
First off the hot trend in cocktail parties this year is the "Hollywood" cocktail party. This is a fun one to embrace. Look to your favorite Hollywood starlet for inspiration. Think satin, diamonds and even a little fure. Meow! If that's all a bit scary for you, then is always the classic little black dress. IGIGI have many little hot black numbers, for the all round favorite this season is the Stella Cocktail dress. Very Brigitte Bardot. Yeah baby!
Look out for series 2 of this group of posts brought to us by IGIGI, coming up tomorrow!