Archive for 2007
By Sarah On December 31, 2007
No Comments
Over the past days IGIGI has been running a Family & Friends Sale, where they were offering a 30% discount to all customers who enter coupon code HOLIDAYS07 upon checkout.
Just wanted to let you all know that today is the last day to take advantage of this unique opportunity being made available to use by IGIGI. So if you have had your eye on something, go and get it at a 30% discount today at IGIGI.

To keep up to date with the latest posts subscribe to our RSS feed. You can also receive updated via email, subscribe for free here!. Thanks for visiting!
By Sarah On December 25, 2007
2 Comments
Merry Christmas to all!
I wanted to take this opportunity to wish you all a wonderful Christmas Day. May you spend this day in harmony, surrounded by your loved ones.
"Bless us Lord, this Christmas, with quietness of mind;
Teach us to be patient and always to be kind. "
- Helen Steiner Rice
By Sarah On December 24, 2007
No Comments
Torrid is currently holiday a grand Winter Sale, where most of the things you have been eyeing these past few weeks are now on sale! Lots of fabulous plus size clothing items, are now discounted.
Below is an idea of the savings you can make:
$10 off dresses
$10 off select PJs
25% off Betseyville
25% off bras
50% off outerwear
50% off select shoes
50% off select boots
50% off sweaters
Select tops at $9.99
Select tops at $19.99
Select tops at $24.99
Select hoodies at $29.99
Select jackets at $29.99
Select jeans at $29.99
Select pants at $29.99
Select skirts at $29.99
This grand winter sale is going on now, though 1st January, 2008.

By Sarah On December 23, 2007
No Comments
Buying quality designer clothing, which is figure flattering and unique, is something which would bring a smile to the majorty of women's faces! Now imagine getting the chance to acquire designs curvy fashion at a 30% discount. That would call for a big and wide grin!
Well IGIGI has definitely given plus size women a reason to smile as it has just launched a fabulous Friends & Family sale, where all items can be purchased at a 30% discount! All you need to do is enter coupon code HOLIDAYS07 during checkout, and 30% will automatically be knocked off your bill.
If you are unfamiliar with the label, IGIGI is a unique plus size clothing line which offers curvy ladies exquisite, designer fashion. IGIGI rarely comes out with a piece which I don't wish I own!
Hurry, and visit IGIGI, as this sale is running only until 31st December, 2007.
By Sarah On December 23, 2007
No Comments
Check the halls with holiday shopping. Although it's a little bit too late perhaps to buy your perfect outfit for Christmas Eve or Christmas day online, there is still time to make some extra special savings on stylish plus size clothing for New Year's. What better way to kick start the New Year, than with a new stylish you?
Whilst shopping around the plus size clothing stores online, make sure to check out SizeAppeal. They are offering free ground holiday shipping on orders over $60 and 20% off all marchandise, when you enter coupon coude SANTA BUCKS at checkout. So go on and visit SizeAppeal today.
By Sarah On December 20, 2007
No Comments
With free express delivery now being offered at Big Dogs, you gifts are guaranteed to arrive before December 25th!
Big Digs are giving all customers a free upgrade to express shipping (when making a purchase of $150 or more). The upgrade is normally $7.50, but it is not a special gift to all customers.
Just remember to do the following when you're shopping at BigDogs.com:
Check the "

Express Shipping

" box during checkout, and
Enter promotion code

XMASSHIP

during checkout to get the

upgrade to Express Shipping FREE

(with an $150 purchase)
Place your order before December 21st, 11:00am EST.
By Sarah On December 19, 2007
1 Comment
At the height of winter, the only way to stay warm is to layer up. The key is to use thin layers, like long sleeved t-shirts, pointelle sweaters, and even tank tops with details. Top it all off with a belted jacket to create a slimming and warm look. But don't forget about accessories! The right tote makes all the difference. Match your coat and bag to create a more cohesive outfit.
"I need to layer through the end of winter, its just too cold!" says Christine Alt, Woman Within Style Consultant. "I try to keep my layers smooth and neat for a streamlined tailored look. I always make sure that everything works together, even my bag!"
Woman Within's selection of key layering pieces and great accessories: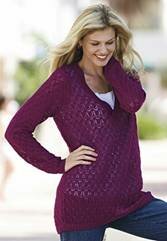 The Mainstreet Blues™ Pointelle knit pullover sweater is thin yet warm. It is perfect over a button down shirt. Featured item $19.99 – $24.99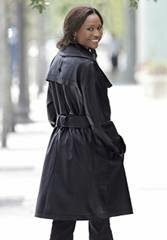 Tie it all together with the Veranesi™ Leather trench coat. Its soft leather will keep you warm and the belt will keep the look slim. Featured item $119.99 – $139.99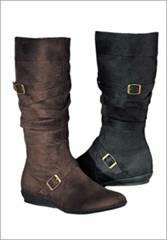 Barbara Wide Calf Boots are a great way to stay warm. They are designed to fit a wider calf. Featured item $49.99 – $54.99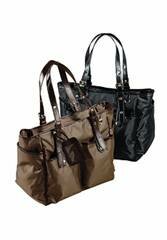 This nylon tote bag has a great neat look perfect to complete a warm winter layered look. Featured item $24.99

By Sarah On December 17, 2007
No Comments
The following is a guest post by Sara Johnson.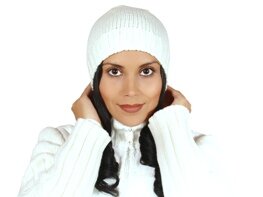 The fashion stars of winter 2007/2008 are a welcome beacon of shimmer, shine and pop of color in an often drab winter palette. 80's glamour color palette, with updated flattering shapes, combined with the refined luxury of the 40's have re-emerged throughout the fashion world to an applauding plus size audience.
Jewel tones hues for 2007/2008 are taking center stage, often times replacing the ever-present Little Black Dress as chic choices. Amethyst, cobalt, ruby and emerald are the universally flattering favorites, for all shapes and sizes. The standard myth that black slims, colors expand is being proven incorrect time and again with this gorgeous palette. Rich, saturated colors slim and flatter as well as their somber sister black and alternately, flatter the wearer's coloring beautifully.
Choose quality fabric, in a rich tone designed to enhance your favorite feature. A beautiful plus size woman, wearing a pop of color in a sea of black is sure to add a little life to even the dullest of holiday hoop-lahs. Still choosing to stick with basic black dress? Add burst of color with bold amethyst satin Maryjane's and a choice Kenneth Lane Cocktail ring and jeweled bangle set. Mix your accessory colors freely when wearing a solid black clothing palette for dramatic effect.
Shimmer and shine is no longer evening exclusive apparel, glittering choices for the season easily carry the wearer from day to night. Satin shimmering blouses are easily paired with sexy blazers for day and a sexy pair of metallic heels and bold cocktail jewelry for night. Jeweled detailing at the hem, neckline and sleeves add standout detailing to basic shapes we love. When wearing shimmer apply the same rules used with animal print; chose one garment to shine.
Modern opulence combined with the refinement of the 40's creates an easy assumed elegance for the winter 2007/2008 season. Structured jackets, paired with high waisted trousers in tweeds and wool create the perfect foil when worn with a silk blouse in one of the afore mentioned jewel tones. Feminine curves have made a reappearance in winter design; the tailored styling, supple quality fabrics and flattering design have women with true feminine curves rejoicing.
Winter fashion this season personifies the confidence and empowerment of the modern plus size woman. Curves haven't been targeted and celebrated in such an effective manner in decades and the shift is receiving a gracious welcome. Flattering choices for the curvy woman are aplenty this season, discriminating, bold fashion lovers, enjoy!
Who is Sara Johnson?
Sara Johnson is the co-owner and product buyer at Velvetsiren.com – A posh plus size clothing boutique for curvy girls. She currently works as a fashion consultant for curvy women worldwide. Come see what everyone is talking about!
By Sarah On December 15, 2007
1 Comment
This month's Store of the Month spot is a tiny little bit different than usual, because we do not have just one store featured but four!
December is holiday season month, and that makes it one of the busiest times of the year. With many different places to be and things to do, December calls for a lot of different outfit changes. This is the reason for our choosing more than one store to highlight during December. I feel that one store for this month is definitely not enough; different stores, all of which specialize in their particular areas, are needed to help make December a more stylish month. So here are my featured stores:
1. Torrid: Specializing in trendy and fashion forward clothing in sizes 12 and over, Torrid have been offering plus size women numerous promotions this month to help us all save some money. With a great select of both casual wear and formal wear, as well as an accessories section great for gift grabbing, Torrid is a great place to go to in December.

2. Kiyonna: Definitely a store not to miss if you are looking for more formal attire this month. If you are looking for something to wear at the office Christmas party, or New Year's Eve, this is the store to go to.

3. SWAK Designs: A one stop shop for curvy ladies, SWAK Designs had quickly become a favorite among plus size shoppers, and definitely for good reason. Offering a wide variety of stylish items, in large sizes and at affordable prices, SWAK Designs is a place not to miss if you are looking for casual wear, and party dresses.

4. Hips and Curves: I could not forget pointing out the perfect place to go to for some festive curvy lingerie. Without any doubt, Hips and Curves remains again this season the top choice for large ladies to go to for their saucy and sexy intimate apparel needs. With a great selection available, to fill all your holiday nights, Hips and Curves is a clear winner in the curvy lingerie department.

So there you have it ladies, these are the stores you need this month for curvy style survival.
By Sarah On December 15, 2007
No Comments
SWAK Designs' Pick of the Week is the charming and flattering Angelina top. Now through Sunday 16th, December this top is available at discount. From $32.99, it is not being sold at $24.75! Simply use coupon code POTW25 upon checkout.
This great top flatters all body shapes. It feels soft against the skin and the plunging neckline, embellished with soft lace, makes this top feminine. Very versatile with a tie back, kimono style sleeves, empire waistline and flowing bottom half ready to cover all.
This top can be dressed up with a pair of palazzo pants and heels, or skinny jeans and boots. Otherwise dresses down with casual leggings.
It is very easy to slip into and great for all occasions. You may want one in all three colors. Get yours today at only $24.75. Remember, use coupon code POTW25 for discount to apply.