Archive for the 'plus size fashion tips' Category
By Sarah On June 11, 2009
No Comments
So what's new at OneStopPlus? Quite a bit this season! Browse through their sensational summer fashion options and you will find lots of new items from top brands we all know and love. From sleeveless tanks to the cutest capris, summer's waiting to be taken by storm!
Here's a pick of our favorite new arrivals from OneStopPlus:

1. Crossover Stretch Tank

2. Tank Top With Paillette Trim

3. Tee Shirt with Crochet Inset

4. Breezy Printed Tunic
It looks like you're new here... you may want to subscribe to our RSS feed, or subscribe to our free email updates to make sure you never miss new posts. Thanks for visiting!
By Sarah On June 10, 2009
No Comments
Almost everyone feels a bit self conscious in a swimsuit. To walk out onto the beach revealing so many inches of skin you have to feel self confident. One of the best ways to boost your confidence level when wearing a swimsuit is to choose a bath suit style that really flatters you. Many women make the mistake of picking a trendy swimsuit style that does nothing to enhance their natural build or body type. Nowhere is this more true than when choosing a swimsuit for wide hips. Choosing the correct swimsuit style can help to even out a pear shaped body and give the illusion of more narrow hips. This can be a real confidence booster when you take off that beach cover up. Here's how to choose a bathing suit for wide hips:
1. Use the Power of Color to Camouflage Wide Hips
Whether you choose a one piece swimsuit for wide hips or a bikini, the color you choose can have a big impact on how large your hips appear. Dark colors tend to make areas look smaller while light colors expand them. If you opt for a one piece swimsuit, choose one that has a dark color block around the hip area and a lighter color on top. The lighter color will call attention to the chest, waist, and shoulders while the darker color on the bottom will visually reduce the size of your hip area. You can use the same principle for a two-piece or bikini. Choose a dark color for the bottom and a light color for the bikini top. A bold graphic bikini top will also call attention to the upper half of your body and draw attention away from your wide hips.
2. Choose a Swimsuit for Wide Hips with a High Cut Leg
Another way to deal with wide hips is to choose a swimsuit that makes your legs look longer. One of the most effective ways to do this is to choose a suit with a high-cut bottom. This will visually add length to your legs, making the hip area less noticeable. A higher cut leg will also make your legs appear slimmer.
3. Choose a Swimsuit for Wide Hips with a Mini-skirt Bottom
A mini-skirted bikini bottom can be quite flattering on wide hips as long as you stay away from too much detail. Forget the ruffles on the skirt. Concentrate the ruffles on the upper half of your body to call attention away from your lower half. A simple, ruffle trimmed mini-skirted bottom in a dark color may be all that's needed to slenderize your hips.
4. Draw the Eye to Your Upper Half
When choosing a swimsuit for hide hips, select a swimsuit top with bold graphics or lots of pretty detailing to draw the eye upwards. Wear some fun sunglasses or a big straw hat to balance out your lower half. Add a pretty pendant on a chain that catches and reflects the light.
5. Choose a Swimsuit for Wide Hips with Diagonal Stripes
Choose a swimsuit with diagonal or vertical stripes along the sides of your torso and hip area. This will give you a natural slimming effect and can make your torso look longer and slimmer.
6. Wear a Fashionable Cover Up
One of the best ways to cover up wide hips and still look fashionable is to wrap a sarong around your bathing suit bottoms Add a pair of sandals and you're ready for a casual lunch on the boardwalk.
Don't forget to fake a good tan by wearing a self-tanning cream. Tan skin gives you the illusion of being slimmer and more toned. Most of all, enjoy your day at the beach!
By Sarah On June 9, 2009
No Comments
These days everyone is watching what they spend, and not many people can afford to splash out on any piece of clothing they like. However this doesn't mean you have to be stuck with last year's styles and trends. This year you have to learn how to shop smart, choosing items of clothing which you can mix and match with other items to create a number of different outfits, to suit different occasions.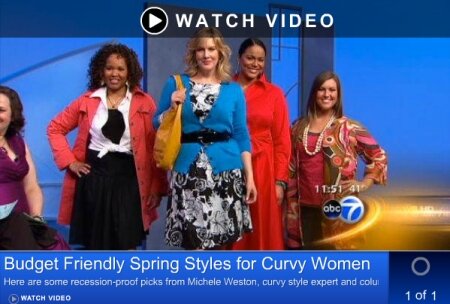 I ran across this very informative video the other day, from ABC 7 news, which showcases a number of different budget friendly outfits options. Michelle Weston, the curvy style expert features in this video also shares a number of useful recession proof style tips; watch the video today!
By Sarah On June 8, 2009
No Comments
Lane Bryant have a number of sizzling summer deals which are definitely worth a look into. Below are the details you need to know:
$25 off orders of $75+. Use code 025009972 at checkout.
$50 off orders of $150+. Enter code 050009961 at checkout.
$75 off orders of $225+. At checkout enter code 075009953.
10% off your entire order. Use promo code 000109932.
10% off Cacique. Enter coupon code 000109932 at checkout.
All above coupon codes are valid until July 27, 2009.
By Sarah On June 4, 2009
No Comments
Avenue has updated it's collection with all the plus size summer styles you will need and want this season. Sunny days are ahead and Avenue wants to make sure your beach wardrobe is ready! Whether it is swimwear that fits, or comfy and cute summer flip-flops, I know you will fall in love with their great assortment of the best summer fill figured fashions!
Plus, you can also choose from one of their amazing offers and save whilst shopping. Here are the details:
$20 off a purchase of $100 or more. Click here for details.
$15 off a purchase of $80 or more. Click here to find out the coupon code.
Free Shipping on $75 or more. Reveal the required discount code here.
All these offers run through July 10th, so you have ample time to make use of them whilst shopping at Avenue.
By Sarah On June 4, 2009
No Comments
Catherine's have launched 3 amazing new offers, enabling you to shop through their new summer collections and save! Here are the details:
$10 off orders of $50 or more. Use coupon code 776999864.
20% off highest priced item with $75+ purchase. Enter coupon code 776999856.
10% off on your online order. Use code 776999849.
All these offers are valid online until August 31, 2009. So there is ample time to shop and use these coupons girls.
By Sarah On June 3, 2009
3 Comments
When it comes to maternity swimwear, there's never been a greater selection and diversity of styles available. In the past, most pregnant women either avoided the beach entirely or do their best to cover their growing abdomen in conservative swimwear and a cover up. Times have certainly changed. In this day and age, it's not uncommon to see a woman eight months pregnant sporting a bikini. While this may be true, most pregnant women still feel more comfortable in a one piece but that doesn't mean it has to look matronly. Here's how to choose a one piece maternity swimsuit that's stylishly practical:
Decide if you want to look pregnant or cover it up.
If you don't mind showing off your pregnancy a bit, you can choose from a variety of one piece styles that will show off your expanding abdomen such as an empire tank or a keyhole style swimsuit. If you're a bit more modest, you can opt for a style with a flouncy skirt such as a baby doll style with a halter back. A flouncy skirt can look stylish while making you feel a bit less self conscious about your expanding abdomen.
Plan for your expanding abdomen.
As your abdomen continues to grow in size, you may not want to invest in another swimsuit. To avoid this, choose a suit with tie closures as opposed to clasps. As your abdomen distends, you can simply adjust the ties to accommodate your expanding girth. This can be a big time and money saver.
Reconsider basic black.
Although a solid black swimsuit is slimming when you're not pregnant, it does little to distract the eye away from your growing abdomen when you are. Try on a print one piece maternity swimsuit and you may find the pattern draws eyes away from your abdomen and towards your upper body and face. A print halter swimsuit top with a center pleated skirt paired with a simple tie bottoms can be very flattering. One piece maternity swimsuits come in such an array of colors and patterns these days that there's no need to stick with basic black. Experiment a bit and find a shade and pattern that expresses your personal style and makes you feel good.
Be sure you're supported on top.
As your breasts expand in size, you're going to need adequate support. The best option may be a shelf bra with underlying elastic. If you're smaller breasted, a bandeau style or halter top with soft cups or even a strapless style may work best although a strapless style may be impractical if you plan on swimming laps in the pool.
Choose your material.
Cotton is a nice fabric for swimwear because it bleeds but a suit with some lycra has its advantages because it expands as your abdomen does. That added stretch can be important as your pregnancy progresses.
Decide if you'll be swimming or merely sunning.
If you plan on swimming laps in the pool for exercise, a tank style one piece is probably your best choice. If you'll be spending most of your time in a beach chair or walking along the shoreline, you can choose a less practical and more stylish type of one piece maternity swimsuit.
You don't have to dread shopping for a one piece maternity swimsuit. The fashion world has responded to a woman's desire to be stylish during her pregnancy by design lots of flattering options. Have fun selecting your suit!
By Sarah On June 2, 2009
No Comments
Want a surefire way to make a plain, old outfit fun and cool again? Grab a new pair of blog heels! Head on to Torrid, where they have just added a number of new shoes, making sure you are spoilt for choice. Here are our favorite 5 new pairs:

1. Purple Patent Cheetah Orsen Heel

2. Gold Snake Orsen Heel

3. Leaf-Green Malia Heel

4. Purple Pleated Orsen Peeptoe Heel

5. Beige Wild Cat Photo Print Orsen Heel
By Sarah On May 28, 2009
No Comments
Fashion Bug are running the following two great offers, helping you save whilst updating your wardrobe for a fresh summer look:
1. $15 OFF orders of $75 or more: Enter promotion code 776276602 at checkout.
Expires June 30, 2009.
2. Free Shipping with every $75 purchase: Enter promotion code 776276701 at checkout.
Expires August 14, 2009.
By Sarah On May 27, 2009
2 Comments
If you're looking for an inexpensive way to accessorize your clothing, a belt can be the answer. A well chosen belt can take a simple outfit and turn it into fantastic. Choosing the right belt can also subtly alter the contours of your figure, making your waist and hips look larger or smaller. Here's how to choose the right belt to flatter your figure.
1. If You're Short Waisted
It can be a blessing to be short waisted since you're probably blessed with long legs. Short waists look best with thin, narrow belts since they're less likely to overwhelm the midsection. It also helps to wear belts as low as possible to add length to the torso. A narrow belt slung low on the hips can be flattering and gives the illusion of a longer torso. Avoid big bulky belts which can overwhelm your mid-section.
2. If You're Long Waisted
A long torso provides lots of length for a belt in a wider width. To add the illusion of longer legs, wear your belt as high on the waistline as possible, preferably with higher waisted pants. Try to match the color of your belt to your pants to give a long, unbroken line from waist to hips. Belting a dress or a tunic slightly higher than your natural waistline can add the illusion of length to your legs and call attention away form a long torso. Save the narrow belts and hip belts for those with shorter waistlines.
3. If You're Petite
Large, bulky belts can overwhelm a petite figure. Stick with belts that are three inches or less in width to enhance your shape without looking too bulky. To give the illusion of greater height, wear a single color from neck to toe with a coordinating belt and shoes. Avoid wearing brightly colored belts or belts that contrast with your outfit.
4. If You're Heavy
Choose a belt that's similar in color to your outfit. Avoid wide belts in contrasting colors which can make your waistline look larger. Keep the buckle understated to avoid calling attention to a wide waistline. The key to de-emphasizing a heavier build is to keep it simple when it comes to choosing the right belt.
In general, you can't go wrong with a simple, leather belt in a width of around three inches, preferably in a dark color. Dark, matte belts with simple buckles are naturally slimming and tend to be the most versatile. It can be difficult to wear a wide or brightly colored belt unless you're tall with a slim waistline.
Always try on a belt before buying it to make sure it fits comfortably. Generally, your belt should be around two inches larger than your natural waist measurement. When you purchase a belt, take it home and try it with variety of outfits. Be sure it fits through the belt loops of most of your pants. If not, return it to the store. A well chosen belt should give you lots of versatility.