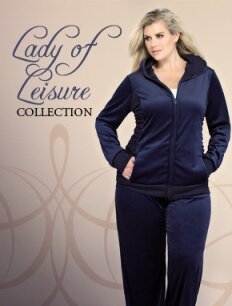 For many, the New Year brings with it lots of resolutions, and it's no different at Kiyonna! However their resolution sounds better to me than what I usually hear. There is no talk about working too hard in fact, and making difficult changes.
Instead their resolution is to start living luxuriously in all instances of the day, even when lounging. Even when you are laid back, relaxing and lounging about you should wrap yourself in luxury. Because let's face it, you deserve it!
To help us work on this resolution, they have launched their brand new plus size loungewear collection, which is definitely worth a closer look. Run around town in their chic and stylish Hollywood tracksuit that's tailored to fir your every need.
Kiyonna is so proud of this new collection in fact, and is sure that you will love is at much, that it is putting their own personal guarantee on it. If you don't love their new Hollywood tracksuit, they will provide you with a postage paid return label. (Returns must be made within 30 days of purchase, unworn and in their original condition of course. Domestic orders only).