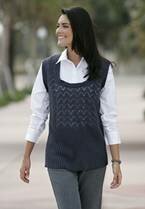 As summer draws to a close, it is time to start looking forward to fall. Now is the time to update your wardrobe with the latest fall fashions for plus-size women, as stores are stocking up and most styles are currently available in most sizes. So you won't be disappointed.
Some of the hottest styles for fall include dark jeans, ballet flats, a versatile bag, and a detailed, feminine top that ties it all together. Pointelle stitching is a great way to let your femininity shine.
"I like to pair the basics in my wardrobe with pieces that have good detailing," says Christine Alt, Woman Within Style Consultant. "I like to wear darker jeans in the autumn. With a nice top and a great bag, I can have the perfect outfit for fall, any day of the week."
See Christine's key pieces for fall (all available of which are available at Woman Within):
Premium 5-pocket stretch jeans denim: Great for fall, the stretch construction create a look that is both comfortable and flattering. To make a great fall look, pair the jeans with some great boots and a flowy top.

Two-pocket satchel: This bag is a must-have for fall. The perfect size, easy to carry, and with plenty of room for everything, carry this bag to complete any autumn outfit.
Layered-look pullover: The flirty detail of this sweater punches up the basic jeans/shirt combo for fall. The pointelle stitching in front and ribbed stitching all around make this sweater feminine and light.
Ruffled ballerina flat: The feminine ruffle detail creates the perfect finish to your fall outfit. Animal prints or metallics are both hot looks for fall.