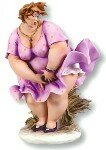 chunkEbusiness.com, a fat friendly art gallery and gift shop, last week announced an exciting addition to their range of products. They have added a new line of statues, the Beautifully Big statues.

The little big pieces are gorgeous, and a great addition to you decor if you want to show off your plus size friendly attitude through your home decor. These statues are imported from Italy, are cast in resin and are individually hand painted.

I guess you will either love or hate these pieces. Myself, I love them!